In 2015, the Tampa Bay Lightning set out on a mission to grow the sport of hockey amongst Elementary and Middle school students. Since the inception of the program, the Lightning have introduced the sport of hockey to over 200,000 students at 1,000 Tampa area schools.
The Lightning School Program presented by CHASE BANK, consists of a one-day visit from Lightning Alumni and staff, designed to introduce the game of hockey to students. During these visits, the Lightning setup a hockey rink and teach students the game of ball hockey through various drills, ending each session with a scrimmage.
Please see below for details on the donation provided to schools, students, and expectations of the program.
School Benefits
Each participating school will receive a full set of Lightning branded ball hockey equipment. This includes:
40 Ball Hockey Sticks
30 Ball Hockey Balls
20 Lightning Pinnies
2 Ball Hockey Nets with shooting targets
Teachers can download the ball hockey curriculum below aligned with the Florida Standards for Physical Education. Also, view our Hockey How To Videos at the bottom of the page.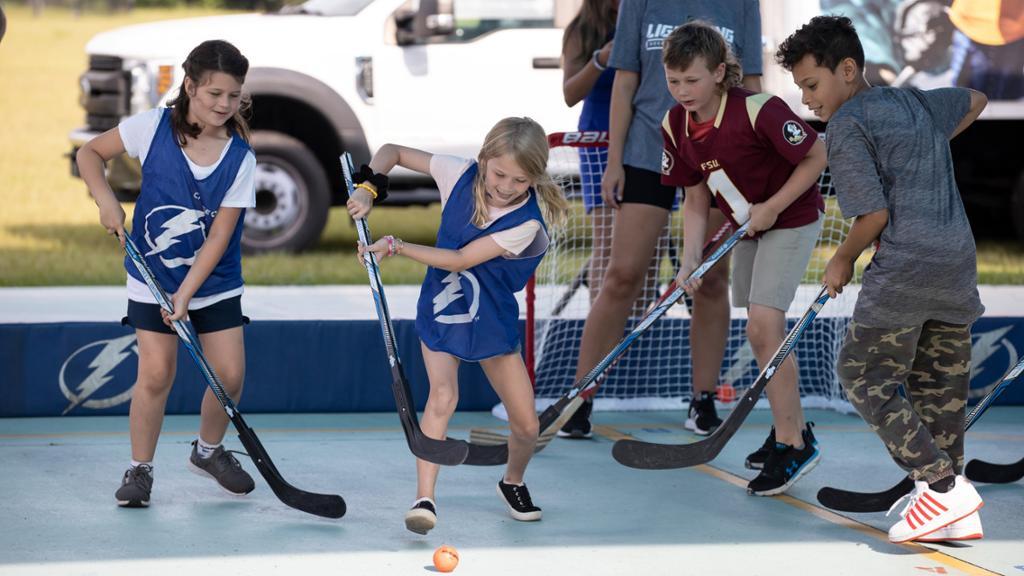 Student Benefits
Each student will receive:
Lightning branded ball hockey stick and ball
Autographed player card from Tampa Bay Lightning Alumni
Discounted ticketing and merchandise offer
Details on next steps to play ball and ice hockey
Get Your School Involved
If you are interested in having the Lightning Hockey Development Team out to your school, please complete the application below and a representative from the Lightning will get in touch with you about availability and scheduling details.
Please be aware that submitting an application does not guarantee a visit to your school due to scheduling availability.