September Player and Goalie of the Month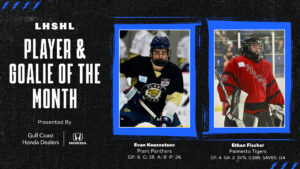 Huge congratulations to our Player and Goalie of the Month!
Evan Kouznetsov of the Plant Panthers led all players in the month of September with an outstanding 18 goals scored and 8 assists for a total of 26 points in just 6 games.
Ethan Fischer backstopped the Palmetto Tigers to 4 straight wins in September having only let up 2 goals on 114 shots and posting two shutouts. This performance earned Ethan an impressive .985 save percentage.